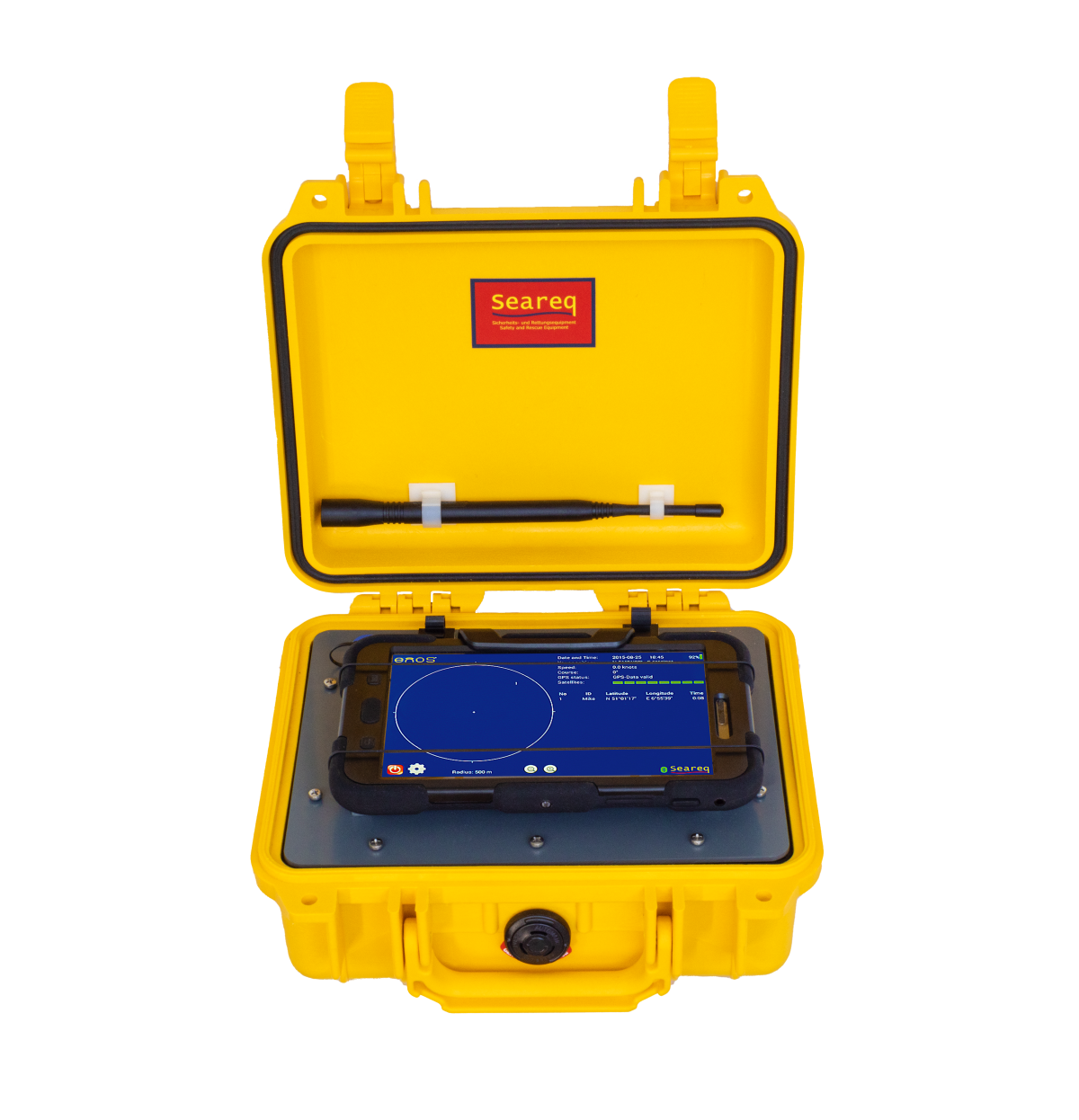 MRX-BT-O, portable MOBOS receiver MRX-BT-O, Bluetooth station with rugged tablet PC as a mobile screen, OUTDOOR
The right MOBOS receiver for every boat!
When developing the MOBOS receiver, we focused our attention fully on the crew, so that every rescue runs smoothly.
We also had in mind the multitude of different boats, because each one is different. And of course the sailors are not all the same: while some only use their own boat, others charter one in the holiday country.
Not to forget wind and kite surfers, who can easily take the MOBOS transmitter MTX-M with them.
That's why we offer 5 different MOBOS receivers that fit on every boat: from inflatable boats to luxurious yachts.
MOBOS Receiver MRX-O
The MOBOS receiver in a very handy and compact case. It is completely self-sufficient, equipped with a GPS and radio reception antenna.
The MRX-O can only be used outside of the cabin = outdoors because it does not get GPS reception in closed rooms.
►  Because of the compact size, it is equipped with the numeric display
► Ideal in the sailing club if the boat is changed frequently
► Ideal for wind and surf bases that do not require a 360° display
► Handy and compact, the perfect holiday companion for the chartered boat
► Ideal for small boats
► Super practical in the inflatable boat
MOBOS Receiver MRX-I
The MRX-I is the same MOBOS receiver as the MRX-O. However, there is also a socket on the front panel for connecting an external GPS antenna.
This means that the MRX-I can also be used indoors / in a cabin because it gets its GPS position via the additional, external GPS antenna.
►  Because of the compact size, it is equipped with the numeric display
► Ideal in the sailing club if the boat is changed frequently
► Ideal for wind and surf bases that do not require a 360° display
► Handy and compact, the perfect holiday companion for the chartered boat
► Ideal for small boats
► Thanks to the additional GPS antenna, it can also be set up indoors:
     below deck, in the cabin and in the office of the wind and kite surfing base
► Super practical in the inflatable boat
MOBOS Receiver MRX-BT-O
A portable MOBOS receiver, with a tablet as a mobile screen. The case receives the emergency call from the person driving, evaluates it and forwards it to the tablet via Bluetooth. With just the tablet in hand, it's easier to keep an eye out for the missing.
In mobile use, the tablet can be fixed on the front panel.
The MRX-BT-O is self-sufficient and fully equipped with a GPS and radio reception antenna. It can only be used outdoors.
►  The MRX-BT-O shows the exact positions of the people driving in a very easy-to-understand graphic
► Ideal in the sailing club if the boat is changed frequently
► Handy and compact, the perfect holiday companion for the chartered boat
► The tablet also fits into the smallest cockpit
► Convenient: With just the tablet in hand, it's easier to keep an eye out for the missing person
► Super practical in the inflatable boat

 
MOBOS Receiver MRX-BT-I
The MRX-BT-I (not shown) is the same MOBOS receiver as the MRX-BT-O. However, it has an additional socket on the front panel to connect an external GPS antenna. This means that the MRX-BT-I can also be used indoors / in a cabin because it gets its GPS position from the additional, external GPS antenna.
►  The MRX-BT-I shows the exact positions of the people driving in a very easy-to-understand graphic 
► Ideal in the sailing club if the boat is changed frequently
► Thanks to the additional GPS antenna, it can also be set up indoors:
      below deck, in the cabin and in the office of the wind and kite surfing base
► Handy and compact, the perfect holiday companion for the chartered boat
► The tablet also fits into the smallest cockpit
► Convenient: With just the tablet in hand, it's easier to keep an eye out for the missing person
► Super practical in the inflatable boat
MOBOS Receiver MRX-S
The perfect combination of permanent installation and high mobility:
The permanently installed receiving station receives the emergency call from the person driving and evaluates it.
This data is sent via Bluetooth to a tablet that serves as a portable screen.
►  For boat owners who always use the same boat
► The tablet also fits into the smallest cockpit
► Convenient: With just the tablet in hand, it's easier to keep an eye out for the person driving